Each year the position of  the Canada Day Parade Grand Marshall is accorded to someone, or maybe two someones, who have contributed to the quality of life in the Village of Bath over a considerable period of time.
The goal of this page is to document these award winners beginning with the most recent and working backwards.
If anyone has information about someone who has served as a Parade Marshall in years past, or someone you would like to nominate, please email us at canadadayinbath@outlook.com.
2022 Parade Grand Marshalls: Karen and Roxanne Taylor
The arrival of Karen and Roxy to Bath in 2001 began a legacy of kindness to friends and neighbours, an enduring connection with St. John's Church and unwavering support for many, many Village fundraisers over the years.
In the words of one of their nominators "They are ALWAYS there, in the background, making things work. They have contributed so much to this town as supporters of all things good in Bath. Selfless, non assuming, giving of themselves to provide for many in all seasons."
 Another supporter describes them as ''People who spend 90% of their lives paying it forward".
Karen came to Canada and Bath as a landed immigrant. Shortly after she arrived a neighbour told her that the interior of St John's Church was in dire need of re-plastering. Karen knew how to do that. When it was finished, the Anglican Church Women presented her with a warm winter coat and the means to apply for her citizenship. She knew then that she had found her home.
Most people would recognize Karen and Roxanne as the architects of the Annual Community Christmas Dinner. The latest version of this dinner began in 2014 when sixty people enjoyed their turkey and trimmings in the warm and welcoming atmosphere of St. John's Hall or in the comfort of their own home.
In 2019, 300 people were seated for dinner, 40 took home dinner and 21 deliveries were made. This increase speaks volumes about their ability to bring together volunteers, raise funds for food, provide entertainment and create a warm and happy day for all concerned. They kept going throughout Covid and with the able assistance of volunteers and drivers, delivered 348 meals to peoples' homes.
This year the theme for Bath Canada Day is Planting Seeds for Change. It symbolizes the actions that each of us can take to make our community and the world a healthier, more inclusive and sustainable place to be.  We can't think of two other people who have planted so many seeds of kindness in this community.
The Bath Canada Day Committee is proud to honour Karen and Roxanne Taylor, our 2022 Parade Grand Marshals.
2019 Parade Grand Marshall – Joe Hudacin
Bath Canada Day Parade Marshals are always people who have shown a long term commitment to their community.  The Village of Bath is fortunate to have a great number of citizens who contribute to making the village a special place to live, work and play.  Even among this group of very special people, Joe Hudacin is outstanding.
Jean and Joe Hudacin moved to Bath in March 1975 and immediately felt at home. Their young family grew up in the Village and Jean and Joe became active members of the community.  Within months of moving in, Joe was asked to be on the Bath Planning Board, a position he held for three years. Joe was first elected to municipal council for the former Village of Bath in 1979, where he served for the next 19 years, rising to the role of deputy reeve in 1992.
Following the amalgamation of Ernestown, Bath and Amherst Island into Loyalist Township on January 1st 1998, Joe served as councilor for Ward 2 (Bath) for 6 years. He was an active member of the Heritage Committee, the Loyalist Parkway Advisory Committee, the Bath Museum, the Bath Revitalization Committee and the Bath Canada Day Committee.
In 2009, Joe received a medal from the Province of Ontario recognizing his 25 years of public service. In 2010, he was the recipient of a Long-Standing Service Award from Loyalist Township. In that same year, Joe became the Chairperson for the Bath Canada Day Committee after having served on the committee for several years.  Under Joe's guidance, the Canada Day festivities flourished, participation by local volunteers increased and more activities were added.
The Bath Canada Day Committee is very proud to acknowledge Joe's service to our community. We invite you to celebrate Bath Canada Day with us and our 2019 Grand Marshall, Joe Hudacin.
---
2018 Parade Grand Marshall – Virginia Thompson
When asked to describe Virginia Thompson, people use words like:  passionate, steadfast, energetic, kind, generous with her time and talent, a devoted friend, a visionary and an advocate.  She IS all of that.
Since moving to Bath in the fall of 1998, Virginia has been active in many community groups. She has spearheaded fundraising efforts for the Fairfield-Gutzeit House, the Bath Community Revitalization Program, St John's Hall, the Bath Gardening Club and the Douglas Thompson Wish Fund. She is a strong believer in the preservation and celebration of the history of Bath and area and a long standing member of the Township Heritage Committee.  Her support has been unwavering for Ron and Bonnie Tasker in their on-going efforts to reclaim the Ham House.
The most visible of Virginia's contributions are the glorious gardens at the West End Bridge. They are a memorial tribute to her dear friend, Denys Mailhiot, whose vision for the beautification of Bath included the bridge area. Hundreds of hours of gathering, planting, weeding, tending and fundraising have gone into these beautiful beds.
Virginia has also been a constant supporter of Bath Canada Day. Her latest efforts have been directed at organizing the judging for the Bath Canada Day Parade- not as simple an undertaking as it might sound!
Bath is blessed with a great number of citizens who strive to make the village a wonderful place to live, to learn and to grow. The Bath Canada Day Committee is proud to honour Virginia Thompson's contributions and delighted that she will be the 2018 Parade Grand Marshal.
2017 Grand Parade Marshals are Sir John A. and Lady Agnes Macdonald
The Bath Canada Day Committee is proud to announce that the Canada 150, 2017 Grand Parade Marshals are Sir John A, and Lady Agnes Macdonald.
Sir John's roots are deep in this area. He was brought to Kingston, Upper Canada, by his parents, Hugh Macdonald and Helen Shaw, when he was five years old. As his father opened a series of businesses in the area, Macdonald grew up in Kingston, and in the nearby Lennox, Addington, and Prince Edward counties. Macdonald attended the Midland District Grammar School, as well as a private school in Kingston, where he was educated in rhetoric, Latin, Greek, grammar, arithmetic and geography.
At age 15 Macdonald began to article with a prominent Kingston lawyer. Both at school and as an articling student, he showed promise. At 17 he managed a branch legal office in Napanee by himself, and at 19 opened his own office in Kingsto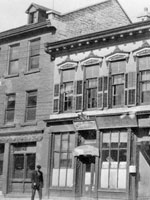 n, two years before being called to the Law Society of Upper Canada.
John Alexander Macdonald was the dominant creative mind which produced the British North America Act and the union of provinces which became Canada. As the first prime minister of Canada, he oversaw the expansion of the Dominion from sea to sea. His government dominated politics for a half century and set policy goals for future generations of political leaders.
Sir John's Office on Clarence Street in Kingston
The Lennox and Addington County Museum and Archives in Napanee have extensive material relating to Sir. John.
---
---
2016 Grand Parade Marshall: Kym Fairfax
When 13 year old Kym Fairfax moved to Bath, little did he know what a life defining event this would be.
As a sixteen year old Kym became fascinated by the work of the Fire Department and spent considerable time "hanging around" the station.  This went on for a couple of years until the Fire Chief, Walter Tompkins, got tired of him being there with nothing to do. He invited Kym to join the Department and 38 years later he is still there.  He currently holds the position of Assistant Deputy Chief devoting countless volunteer hours to the Department and to the community.  Luckily for us, Kym's goal is to be a 50 year volunteer with the Fire Fighters.
Canada Day in Bath and the Volunteer Firefighters are tightly linked. Putting up the flags on Main Street, cooking up the Firemen's Breakfast, leading the parade and navigating the BATH TUB, delighting the kids with the Firemen's Foam and the best display of fireworks in the area, all of these things are Canada Day fixtures made possible by the efforts of Kym and the Bath Fire Department.
Kym's involvement with Canada Day began in the late 70's when he joined the Canada Day Committee. He went on to co–chair the Committee with Allison Turcotte and in the late 80's he took over doing the fireworks. Training is required to do this and for many years, Kym was the only person qualified. He has ensured that are three other people ready to take over when he steps back.
Kym and his partner, Brenda Weaver have been together for 30 years raising their blended family, enjoying their grandchildren and making a difference in our community.
The Bath Canada Day Committee applauds Kym for his years of community service and involvement with Canada Day in Bath.
We invite you to celebrate Bath Canada Day 2016 with Parade Grand Marshall Kym Fairfax.
---
2015 Bath Canada Day Parade Marshals
The Bath Canada Day Committee is proud to announce that Gail and Keith Heywood will be the Parade Grand Marshalls.
Like many others who have been so honoured, Gail and Keith have brought their love
of Bath and their considerable skills to projects and organizations that work diligently to make the Village a great place to live and work.
Their initial volunteer commitment was to the Bath Community Revitalization Project during its beginning phases. Gail was Secretary of the committee and subsequently chaired the Marketing Sub-Committee.
The Bath Museum of Loyalist Township had been championed by Helen and Bruce Talbot for 20 years until ill health forced Bruce to leave the committee.  Karen MacKenzie stepped in and, together with Joe Hudacin and Gail, established its Constitution and By-Laws and oversaw the move to its present location.  In spite of his health issues, Keith continues to be a member of the Executive and an active consultant for the committee.
For the past five years Gail and Joe Hudacin have co-chaired the Bath Canada Day Committee. She has spent countless hours fund-raising, organizing the Vendor's Market and Centennial Park activities and attending to the myriad of details that make an event like Canada Day a success. She retired from the Committee after Canada Day 2014 and it has taken three people to do what she did so cheerfully for so long.
In all of these endeavors Keith has been by her side. His woodworking skills have been invaluable in designing and building displays and signboards for the Museum, for Bath Community Revitalization projects and for Canada Day.
The Bath Canada Day Committee is proud to acknowledge the work of these two dedicated volunteers.
---
2014: The Hogan Family
The Canada Day Committee is proud to announce that three generations of the Hogan Family: Olive, Susan, Ben, his wife Nancy and their son Tim will be the Grand Marshalls for the 2014 Canada Day Parade. The Hogans are a family with deep roots along the Loyalist Parkway and a strong sense of community.
Olive Clement was born in the Miller Farmhouse on County Road 22 and brought up on her parent's farm, now the location of the Lafarge Plant. She remembers walking into Bath to attend Sunday school at Bath United Church. It was the beginning of a long connection with that congregation. She also remembers when Bath had 4 grocery stores, 2 blacksmiths, 2 bakeries, 2 ice cream parlours, a cheese factory, a fish processing plant, a hardware store, a dry goods shop, and a bootlegger!
Through Olive, the Hogan family can trace their roots to Peter Davy, United Empire Loyalist and one of the original settlers in this area. Olive, her children and grandson are members of the U.E.L.  Association. Susan has served as Treasurer and President of the Association
Olive Clement and William Hogan were married January 14, 1944. They worked the family farm with William's parents for ten years at the site of the now demolished Invista Plant.  After the farm was sold, they winterized a property near the store in Millhaven where Olive still resides. William held four commercial fishing licences and was a guide for sports fishermen but his real passion was beekeeping. As a teenager William was given a number of hives and challenged to "do something with them." The few hives became the family business, Hogan's Apiaries.
In turn, William gave their son Ben two hives which grew to 850 over the years. Ben and his wife, Nancy own and operate Hogan's Honey and Maple Products located on the Loyalist Parkway, just west of Bath. Their son, Tim will graduate in June with a degree in Business Administration and join the family business.
Over a fifty year period, Olive oversaw the establishment and running of three Sunday schools, one in Beulah, one in Millhaven and one at the Bath United Church. Two Church Athletic League hockey teams grew out of the Sunday Schools in Bath and Millhaven. She also ran the Explorers, a church based program much like Guides for girls 9-12 and co-established the first Vacation Bible School in Bath in the late 50's.
"Even when other opportunities for service came along my focus was always on the children".
Susan and Ben Hogan grew up in the area but as children often do, moved away when they finished school. In recent years both have returned. Susan is a resident of Loyalist and the organist for the Bath United Church, a post that she has held for 42 years. Ben has served as President and Zone Chairman for the Bath and District Lions Club,
On July 1st we will celebrate Families: Past, Present and Future and the many contributions of families like the Hogan's to our community.
---
2013:  Arnold Hare
Bath Canada Day Parade Marshals are always people who have shown a long term commitment to their community. This year's honoree is no exception.  In fact, the 2013 Grand Marshall is following in the footsteps of his parents, Andrew and Ellen who led the Canada Day Parade in 1987.
A Bath boy born and bred, Arnold Hare has an extraordinary record of community service. His volunteer work with the Bath Fire Fighters began in 1964 and lasted for forty-seven years. During that time he acted as the Deputy Fire Chief for Bath and after amalgamation, for Loyalist Township. He served on the Bath Utilities Commission, was a councilor for the Village of Bath and represented Bath on the Cataraqui Region Conservation Authority.  He and his wife Brenda are long standing, active members of Bath United Church.  Arnold describes himself as the "fix-it" guy, an important role when trying to maintain a church constructed in 1849.
Well known as an all-around nice guy, Arnold keeps busy in his retirement helping his family with renovation projects, coming to the rescue when a neighbour needs something fixed and community projects.
The Bath Canada Day Committee is very proud to honour Arnold Hare as our 2013 Grand Marshall.
---
2012: Cynthia Flavell
The theme of the 2012 Canada Day Parade is "Celebrating Bath's Heritage" With the spotlight firmly on our historical past it seems most fitting that this year's Grand Marshal is a woman who has contributed significantly to cataloging, preserving and celebrating Bath's heritage.
Cynthia and her husband Cy, have lived in Bath since 1966. Over the years she has served on the Township Heritage Committee, volunteered with the Lennox and Addington County Museum cataloging the names of those buried in Bath cemeteries, served on Village Council, the Loyalist Parkway Commission and the Bath Museum. Since 1985, she has been a director of the Fairfield-Gutzeit Society. Cynthia is Bath's "go to" lady for things historical.  We value her many contributions to our community and look forward to her participation in the coming years.
---
1993: Bruce and Meta VanLuven
Paul VanLuven recalls that Bruce VanLuven was asked to be the Grand Marshall because he served as Reeve for Bath and also as the Fire Chief for Bath throughout the 60's and 70's and maybe some of the 80's.
Reeve Bruce Talbot is shown presenting the award to Bruce and Meta.